'D' Licence Package - Moruya Airport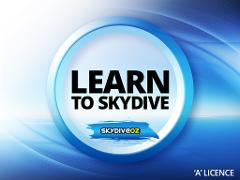 期間: 56 日 (約)
所在地: Moruya,, NSW
製品コード: SDODLICENCE
Learn to Skydive at Australia's only beachside facility
NOTE! To be eligible - you must have completed the Skydive Oz course application (available on the learn to skydive page of the website) and have received a notification of acceptance.
Why learn with Skydive Oz?
Apart from being the only beach located learn to skydive facility in Australia; we also are not too big –class sizes are limited to ensure you get personalised, one on one training with your instructors. Skydive Oz at Moruya Heads operates 12 months a year and focus on being the absolute best location to learn and stay. Take a look at our reviews to hear what our customers have to say: Trip Advisor / Facebook
Location & Accommodation?
Skydive Oz operates from the purpose built training facility at Moruya Airport on the NSW South Coast.The runway runs directly parallel next to the beach and opposite the river. The modern rooms are next to our Aircraft hanger so you are never too far away from the action or some well deserved rest.
Please note: we have a NO DOG POLICY here at the drop zone. Please leave your pooch at home during your stay with us.

Includes
o 100x Jump Package
o 100x Skydives
o 'C' License Required
o 10x Coached Skydive Lessons
o Star Crest Rating
o Exit Spotting Training
o 56x Days Accommodation
o 10x Lunches
o 56x Complimentary Breakfasts
o 'D' License Application
o Gear hire is not included. Bulk hire discount rates are available.
o Free Skydive Oz T-Shirt
o Experience of a lifetime

o $8,645 – On Sale Now! Save over $2,330